Introducing the Master of Science (MSc) Dual Diploma in Renewable Energy by Azerbaijan State Oil and Industry University (ASOIU) & WMG, at the University of Warwick, which is ranked 67th in the world according to the University Rankings by QS Top Universities 2024.
This one-of-a-kind program delivered by WMG offers a comprehensive curriculum with eight modules and a project, leading to a University of Warwick MSc, and six modules presented by ASOIU leading to an ASOIU MSc. World-class faculty within the program will empower candidates with the knowledge and skills to excel in this rapidly evolving sector.
Our collaboration with WMG focuses on the development of a sustainable learning environment to train national professionals in renewable energy and the use of its technologies.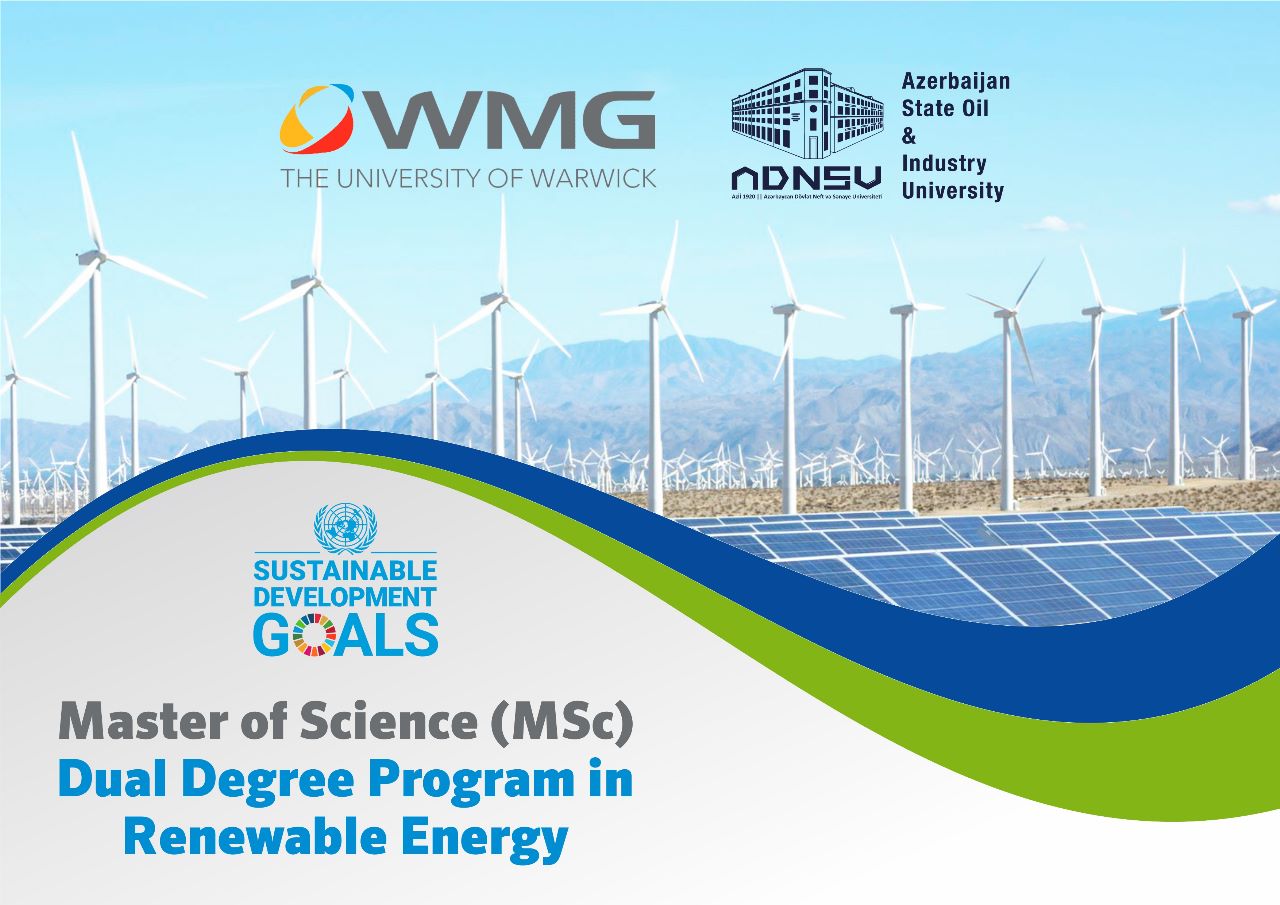 Attention to Students who want to be transferred to the Dual Diploma Program.
We have crucial information for those of you who participated in this year's State Examination Center's exam and gained admission to the master's level. If you have successfully completed your bachelor's degree in a relevant field (please refer to the list of qualifying degrees under the "Which Bachelor's degree holders can apply to the program" section), you now have the opportunity to apply for the Dual Diploma Program during the designated transfer period. The deadline is 10.09.2023.
To gain a deeper understanding of the Dual Diploma Program and its offerings, we cordially invite you to attend our information session scheduled for August 30, 2023, at 12:00. We anticipate that this additional information session will provide you with all the answers you need to make informed decisions about your academic journey.
Your interest is highly valued, and we eagerly await your participation in the upcoming session.
Thank you, and we look forward to meeting you at the information session!
Admission Application:
Application Deadline: September 10th
If you are an Immediate Admission nominee, this is your opportunity to submit your application for the program. The application submission deadline is September 10th. If you are evaluated as a successful candidate for possible admission, you will be notified by September 15th, 2023. Upon receiving this notification, you will be able to enrol in the Program. Do not miss this chance to secure your admission.
Apply now for Immediate Admission and take the first step towards your academic journey!